The previous gallery was running out of room, so welcome to the new page.
We love your photographs of your fantastic dogs, so much so the older page is still available to view following this link: "The Gallery Page 2"
How gorgeous and handsome is Spike in his new "Vincent" collar!
His Humum refers to him as "my derpy wonderful idiot" and we have to agree with "derpy" - check, "wonderful" - oh yes and "idiot" - hmmmm, personally we think that life's too short to keep your tongue in your mouth and we're all missing a trick here. Liberate those tongues!
Thank you Jennie for choosing Fat Paws and sharing lovely Spike.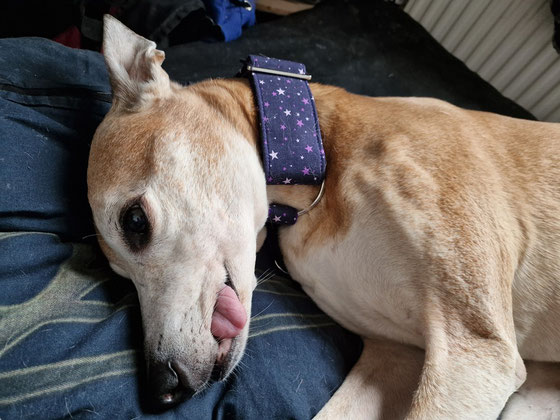 We've fallen in love at Fat Paws with handsome George (hole-digger-extraordinaire) below.
This gorgeous young man is wearing his Fat Paws Frogleton Hall martingale. Maybe this a start of a new hobby for George: frog collecting and he's making a start on a wildlife pond?  
Thank you Laurie for such great photos, your wonderful review (really appreciated) and for making us smile!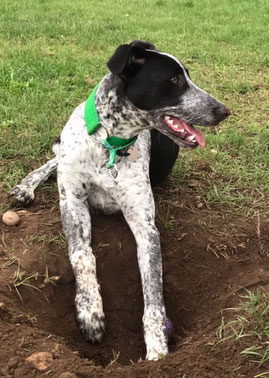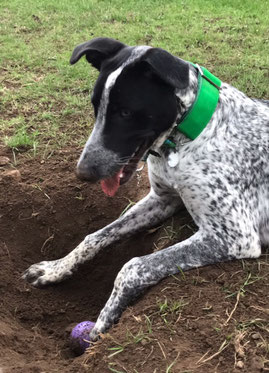 Meet super shiny (and super handsome) Harry in his Kaleidoscope martingale. 
Harry has been in his forever home for 3 weeks and is looking very happy and very settled. 
Thank you Hilary and Harry and there's a little something on the way to you x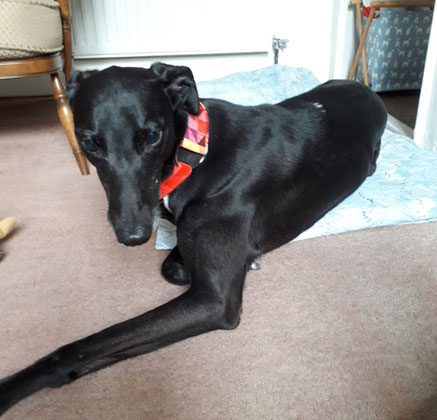 What a trio of gorgeous hounds! Gizmo is in "Kaleidoscope", Aurora is in "Vincent" and Lilly is in a new Fat Paws collar which will be appearing on FP very soon and I suspect may be named "Lilly"  after it's first ever beautiful wearer. 
Thank you so much Angela for sending these lovely photos.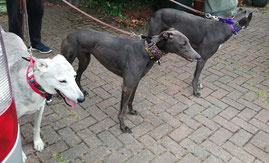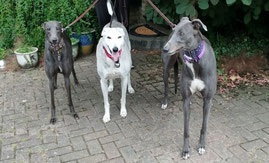 The last ever "Erica" martingale made by Fat Paws is being modelled here by Pepper.
Thank you Pepper for (reluctantly we're guessing) allowing to have your photograph taken - we can see enough to tell you're a beautiful girl!
Thank you too to Matt for sharing.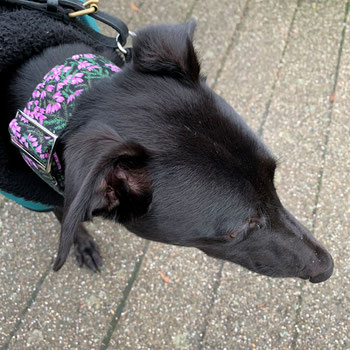 Miss Nelly would like to introduce 4 very good friends of hers: Nola, Finny, Sam and their Mum Sally. 
Aren't they absolute gorgeous - those faces just make us melt . . .
Thank you Sally for sharing x
Meet Nollaig . . .
This young lady is as beautiful as her name and we feel so privileged she's included Fat Paws in this season's event wardrobe..
Nollaig shares her home with Colin below: what a glamorous pair.
Thank you again Ulrika!
The rather handsome chap on the left in the bottom RH photo is Joe.
Form an orderly queue please . . .
Introducing Colin: handsome, charming, fluffy and gorgeous. 
Thank you Ulrika for sharing these fabulous photos of your boy xxx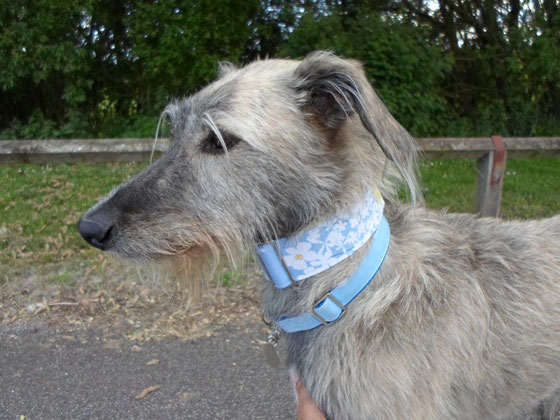 Meet stunningly beautiful Mabel
This young lady has decided that Gemma and Simon's home is where she wants to spend the rest of her life: good choice Mabel. 
Thank you so much for sharing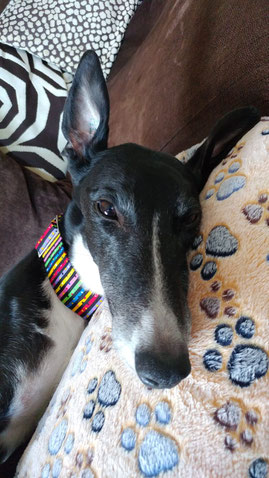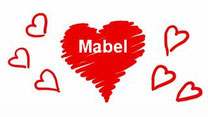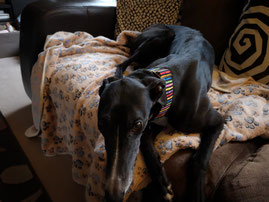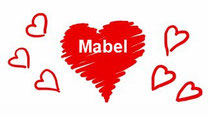 Miss Molly here was so overwhelmed with her new FP collars; she fell asleep! 
Molly is a new addition to Mary, Jim and Flynn's family. She will be sharing her space (and we suspect a sofa) with the fabulous Flynn (R.H photo):  what a lucky, lucky lady. 
Thank you Mary for sharing your wonderful hounds.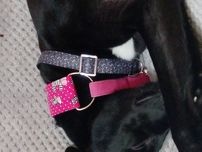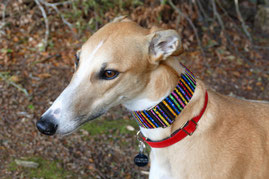 Lovely Leo has his new "Dante" martingale on and is looking hot! 
Thank you Richard for not only sending this photograph, but for your donation to the Dogs Trust too.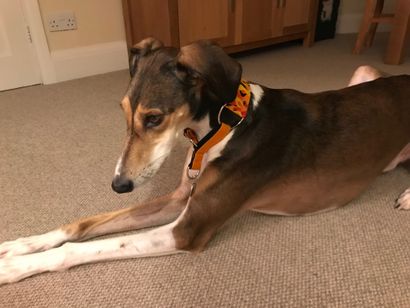 Oh wow! This young man is handsome Delboy in his "Carnival" martingale.
Thank you Delboy (and Jane) for sharing your gorgeousness. You really do put the lovely into Jubbly (so sorry!)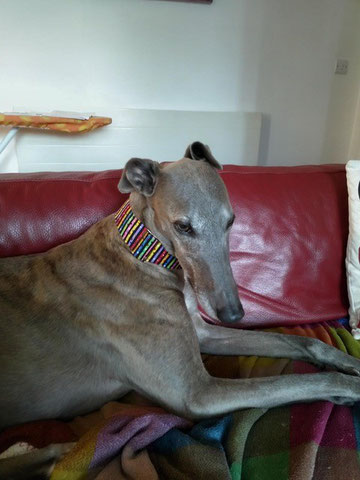 How fabulous does fantastic Fred make his Fat Paws collar look!

Thank you Gareth and Tracey.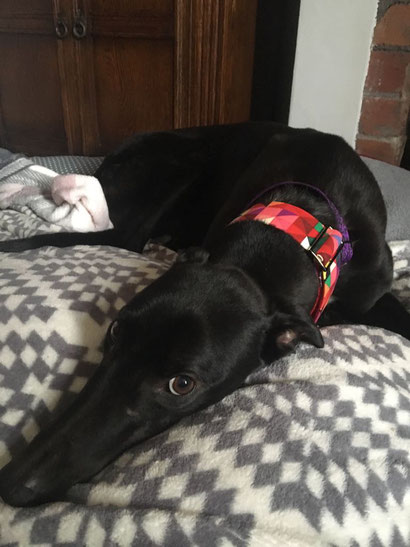 When Tiggy is, and to quote her Mum, the" Naomi Campbell of the canine fashion world" - we'd like to think that Fat Paws played a part in launching this beautiful and glamorous girl's rise to super-stardom.
Thank you Chris and thank you Tiggy.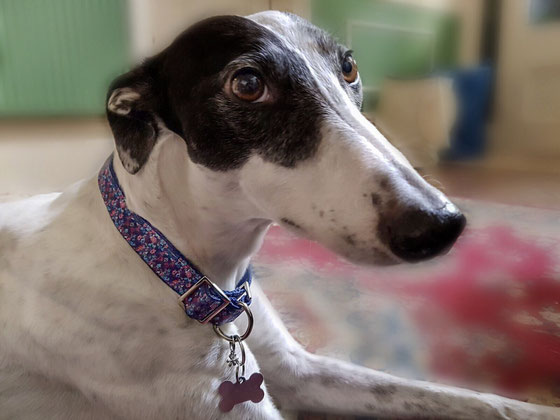 The very handsome Cooper looks a million dollars (think most dogs would prefer a million gravy bones!) in his new "Walkabout" martingale.
Thank you Lisa and Cooper for sharing.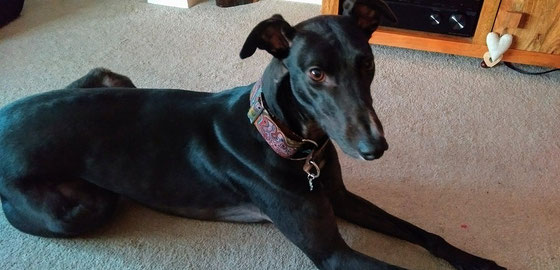 (Drumroll) Ta Dah! Introducing the newly adopted and extremely gorgeous Barney!
Settling into a loving home with Angela and family and getting used to soft beds, great grub, lovely walks and the Good Life.
Thank you Barney for sharing your gorgeousness and thank you Angela for the photos.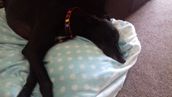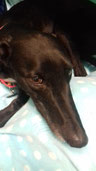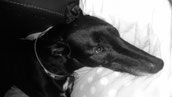 This girl always melts my heart and such a fantastic supermodel too! Gorgeous Sky in her new "Ziggy Zebra" 1.5" martingale. Definitely pretty in pink, Sky.
Thank you Sarah x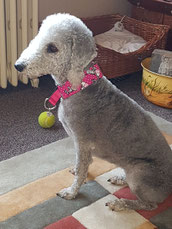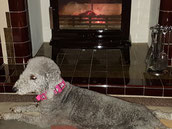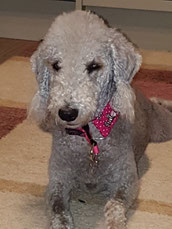 Here come the boys!
Two very brave boys Handsome Henry (in frogs and as 'mad as . . . " apparently) and Charming Chico (in caravans). Henry had an encounter with an adder and was very poorly and Chico lost most of his teeth. You will always be heroes in my eyes, lads.
Thank you as ever Wendy x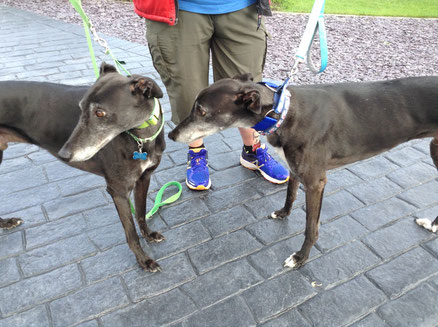 Introducing the rather (very) gorgeous Milly in her Ditsy Daphne 1" martingale.  Thank you Rosemary for the lovely photo.
Beautiful Penny, in pink, is showing Callum how to pose like a professional. Callum needs just a bit more practice  . . .
Hope you enjoyed your holidays and a big thank you to Alan and Colleen for sharing your photos.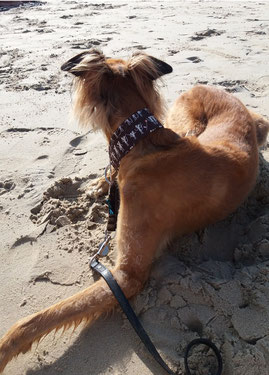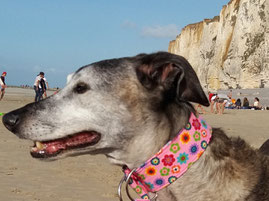 Let's hear it for the girls! This week we've been busy making collars for a bevy of beauties.
From left to right they are Heidi, Nelli and Molly and they have their own individual galleries below.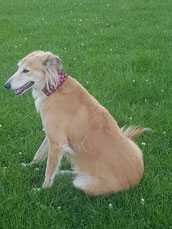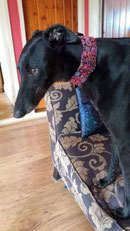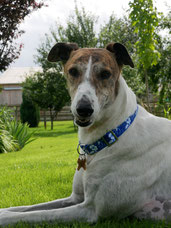 Introducing the very lovely Heidi AKA "the Belle of the Golf Course"
Thank you Kay for these beautiful shots of Heidi in her "Poppies" martingale x
Hello to Nelli: a stunning (and very shiny) greyhound lady who's chosen "Bloflo" with the help of her Mum.
Thank you for sharing Sue x
What a supermodel beautiful Molly is! Loving the dapples Molly and that "Imogen" collar really suits you.
Thank you Mandy x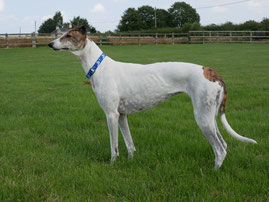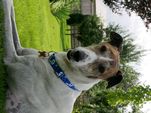 When you're as lovely as this young man: you have to have a wardrobe full of collars and Rodney here has made a start with "Carnival" and one made specially (on the right) with his stunning coat in mind.  
Thank You Rodney for being so gorgeous and thank you Jo for sharing.
Handsome Norman was so overwhelmed with his new "Bloflo" martingale he had to retire to his study (bed) to think (snooze). We think you look great Norman!
Thank you Tracey and thank you Norman.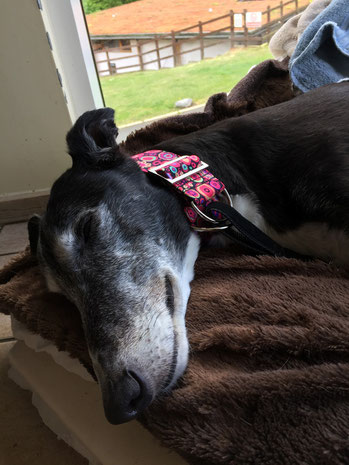 OK, brace yourselves for a gallery of handsomeness. Below is the rather lovely Zeus who, despite having a poorly tail at the moment, has been kind and brave enough to show us how wonderful he looks in his new "Walkabout" tag collar.
Thank you Karla and speedy recovery Zeus xxx
Meet beautiful Tiggy. How good does she make that "Blackberry" Fat Paws collar look!
Thank you Tiggy and thank you Kat